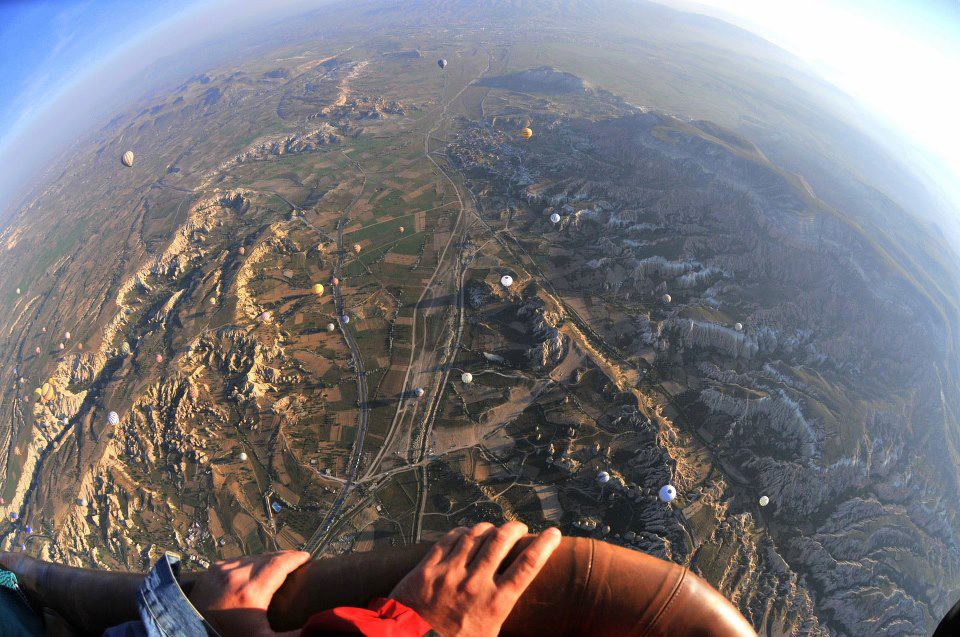 Cappadocia Hot Air Balloon Tour
Cappadocia is the most beautiful place worth seeing with its natural formation fairy chimneys found only in a few places in the world. Cappadocia has been on the UNESCO World Heritage List since 1985.
Besides the chimneys, underground cities, museums, one of the best ways to discover Cappadocia is Cappadocia Hot Air Balloon tours. The balloon tours in Cappadocia are held in Göreme Valley. Göreme Valley and National Park is the best place for hot air balloon flights. Every day, at the earliest hours of the morning, hot air balloons rise at the same moment as the sunrise. If the weather conditions are suitable. Sometimes wind or rain prevents the balloons from flying and flights are canceled.
How Do Hot Air Balloons Work in Cappadocia?
The hot air balloon consists of 3 parts. It consists of a balloon (dome), a burner and a basket for passengers. The burner is located at the top of the basket made of thatch to be light and flexible, above the passengers' heads to warm the air inside the hot air balloon strongly.
The dome, the balloon part, is also usually made of ripstop nylon fabric. The open part at the bottom of the balloon also uses a fireproof fabric like Nomex.
It happens when the air inside the hot air balloon gets hot and the air rises, and the hot air inside the balloon cools to descend.
When is Cappadocia Balloon Tour? 
It is possible to fly with a balloon for 12 months in Cappadocia. Depending on the weather, there may not be flights every day. Less flights are done in the winter months. In summer, more flights are made. Cappadocia Hot Air Balloon Tours are mostly held between March and November.
Depending on the rules brought by Civil Aviation control center, the departure point may change to you each morning according to the wind force and direction.
Flights can be canceled due to the lack of weather conditions for security reasons. In such cases, afternoon flights can also be made.
What Time Does Cappadocia Balloon Tours Start?
In the early morning, guests are collected from the hotels they stay in and brought to the flight point. While having breakfast here, hot air balloons are inflated and prepared for flight.
After informing for flight safety, the balloon is reached and the balloon starts to rise. The guests watching the sun and view rising over the valley for 1 hour, experience unforgettable moments by taking photos. The flights usually take place between 5:00 and 5:30 in the summer, and 6:00 and 6:30 in the winter.
After getting off the balloon, champagne ceremony is held with a specially prepared medal.
How long does the Cappadocia balloon tour last?
It is a total of 3 hours of activity. For the Cappadocia hot air balloon tour, you are taken from your hotel an hour before the flight time and brought to the flight point.
After a light breakfast, security information is given together with the balloons being inflated and the flight begins.
The flight, which lasts for approximately 1 hour during sunrise, can end 10 minutes early or late depending on the wind's intensity and landing point. Standard flights take 60 minutes. After all the activities are finished, you will be left to your hotel. Total duration is around 3 hours. You will be picked up from your hotel at 5:00 in the morning and return to your hotel at 8:00.
What should I wear for Cappadocia Hot Air Balloon Tour?
It is very important to wear suitable clothes in Cappadocia, which has a terrestrial climate. When the balloon tour is done, it is necessary to wear cold weather clothes, since it is the coldest hours of the day.
You should definitely wear one layer thicker than usual, especially in winter. It would be good to choose flat shoes. Do not forget your camera and camera for flight.
Cappadocia Hot Air Balloon Tour Options
Basket capacities of hot air balloons range from 12, 16, 20, 24 to 28. In general, flights are made with 24 baskets. In hot air balloons, while flight prices are higher in small baskets, it is cheaper in large baskets. But you will have wider space in large baskets.
Who Can Participate in Cappadocia Balloon Tour?
Children under 6 years old cannot participate in Cappadocia balloon tours. Anyone healthy between the ages of 6 and 90 can join the hot air balloon tour. Those who weigh 120 kilos or more pay for two. Those who are pregnant cannot fly. Those who have surgery wounds, dizziness or blood pressure can not fly. In some cases, a doctor's report may be required.
Is Cappadocia Hot Air Balloon Tour Safe?
The most reliable aircraft in the world are balloons. It is a light flight like in an elevator. All kinds of security measures are taken and checks are done regularly. Don't worry about security. The civil aviation control center checks periodically. All balloons and pilots are under strict control.
Cappadocia Hot Air Balloon Tour Price
Cappadocia hot air balloon tour prices are not standard. It changes every year. In some years, many guests' income prices rise, in some years, lower income prices decrease. In the same year, summer and winter prices are also different. The average price is between 70 and 80 euros in winter. In the summer, it can go up to 200 euros.
Cappadocia Hot Air Balloon Companies
The first balloon flight in Cappadocia was made in 1990. Hot air balloon flights, which were very new in those days, were in low demand. After increasing demands every year, there have been 26 balloon companies. Daily flights are limited to 165 balloons. No more is allowed. An average of 2000 people a day, 500,000 people a year fly with balloons.
You will see the balloon companies in the list below.
Cappadocia hot air balloon companies name list; 
1-Urgup Balloons
2-Royal Balloons
3-Butterfly Balloons
4-Cappadocia Balloons
5-Voyager Balloons
6-Ezair Balloons
7-Kaya Balloons
8-Anatolia Balloons
9-Discovery Balloons
10-Air Kapadokya
11-Balloon Turca
12-Cihangiroglu Balloons
13-Göreme Balloons
14-Deluxe Balloons
15-Saray Balloons
16-Sultan Balloons
17-Istanbul Balloons
18-Asiana Balloons
19-Turquaz Balloons
20-Türkiye Balloons
21-Atmosfer Balloons
22-Rainbow Balloons
23-Skyway Balloons
24-Universal Balloons
25-Güvercin Balloons
26-Turco Balloons
We will be happy to see you on the balloon tour, which is the most beautiful and important activity to take in Cappadocia. If you contact us, we will help you fly with the best hot air balloon company at the best price.