Cappadocia in 2 Days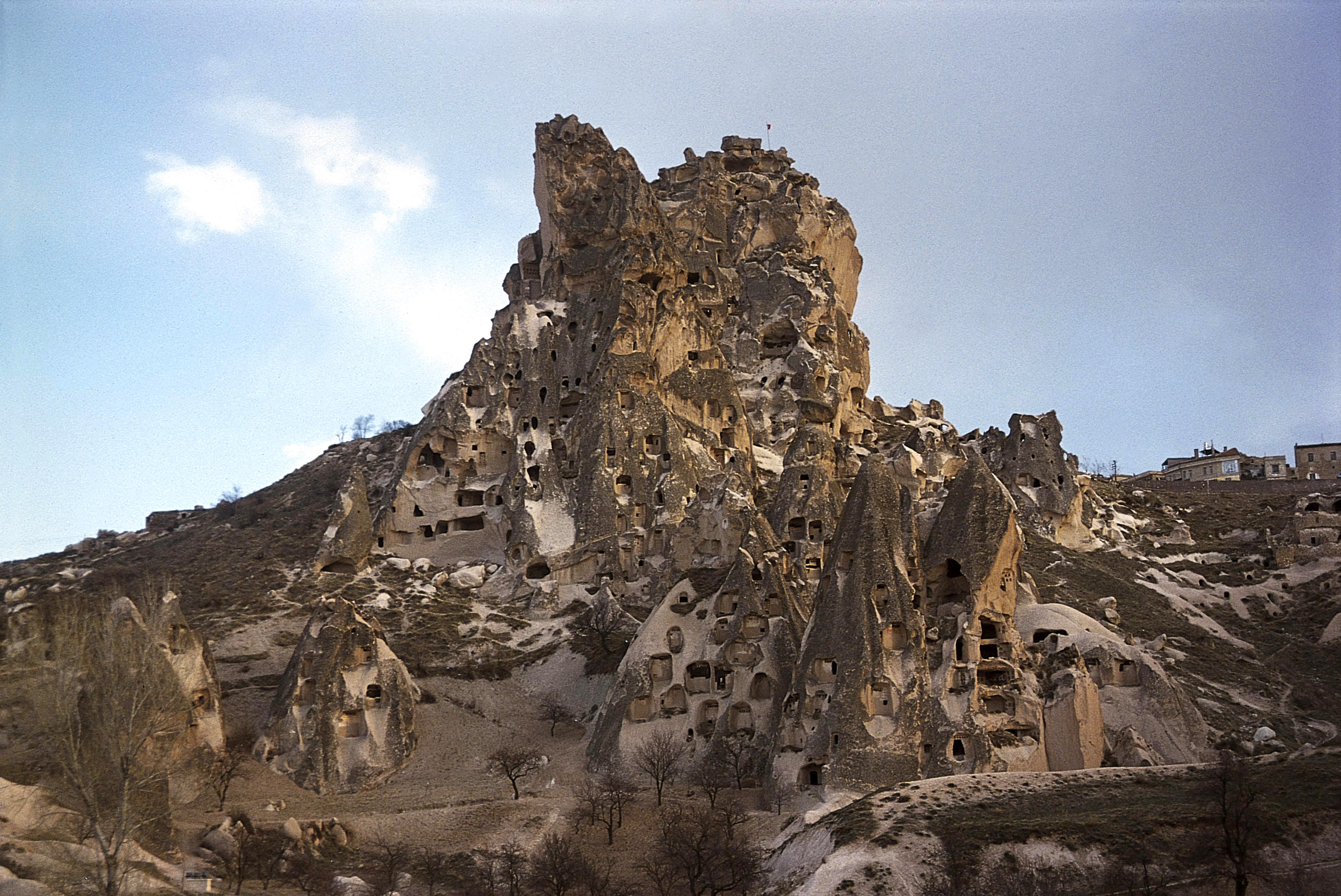 Cappadocia in 2 Days
Cappadocia is the most beautiful place worth seeing with its natural formation fairy chimneys found only in a few places in the world. Cappadocia has been on the UNESCO World Heritage List since 1985. If you have only 2 days for visiting to Cappadocia, you will see below of the page program for 2 days. You will see mostly for everthing in 2 days in the Cappadocia also including hot air balloon tour.
1st Day in Cappadocia
Göreme Open Air Museum: Göreme Open Air Museum is a place where you will enter a completely different world. In this different world where the missionary and seclusion of Christians escaped from oppression and where the monastic life started, you will meet many churches, chapels and living areas carved into the rocks. 
Places to See in Göreme Open Air Museum;
Boys and Girls Monastery
St. Basil's Chapel
Elmali Church
Saint Barbara Chapel
Yilanli Church
Karanlik Church
St. Catherine's Chapel
Çarikli Church
Tokali Church
Devrent Valley: Devrent Valley is known as Dream Valley and Haunted Valley. There are fairy chimneys in the form of the famous camel and different silhouettes, which you will sometimes liken to an animal and sometimes to a human. It is up to you to find the fairy chimney of the Virgin Mary who opened her hands in this visual feast.
Pasabagi Valley: Valley of the Pasabagi Priests is one of the valleys where you can watch interesting formations of the fairy chimneys. Three-headed fairy chimney in the middle of the valley is dedicated to Saint Simeon. It is said that Saint Simeon lived in this chapel for 15 years.
Avanos: Kızılırmak - Redriver passes right in the middle of the town. The art of red clay and ceramics, extracted from Kızılırmak (red river), the largest river in Central of Anatolia, gained importance here. You will be amazed at the workmanship done in this place where the soil turns into art. There are many local ceramic workshops in Avanos.
Pigeon Valley: Starting from Uchisar and extending to Göreme and covering an area of 4 kilometers, Pigeon Valley has taken its name from the pigeon nests carved into the rocks. The name comes from the thousands of pigeon houses that have been carved into the soft tuff since ancient times. It is one of the most important valleys to visit in the region. Its natural beauty and history are remarkable.
Uchisar Rock Castle: The Castle is like the roof of Cappadocia; The snowy head of Erciyes, Kızılcukur, Ürgüp, Avanos, or the whole region is spreading under your feet. A place where you can watch the sunset and take panoramic pictures of Cappadocia.
2nd Day in Cappadocia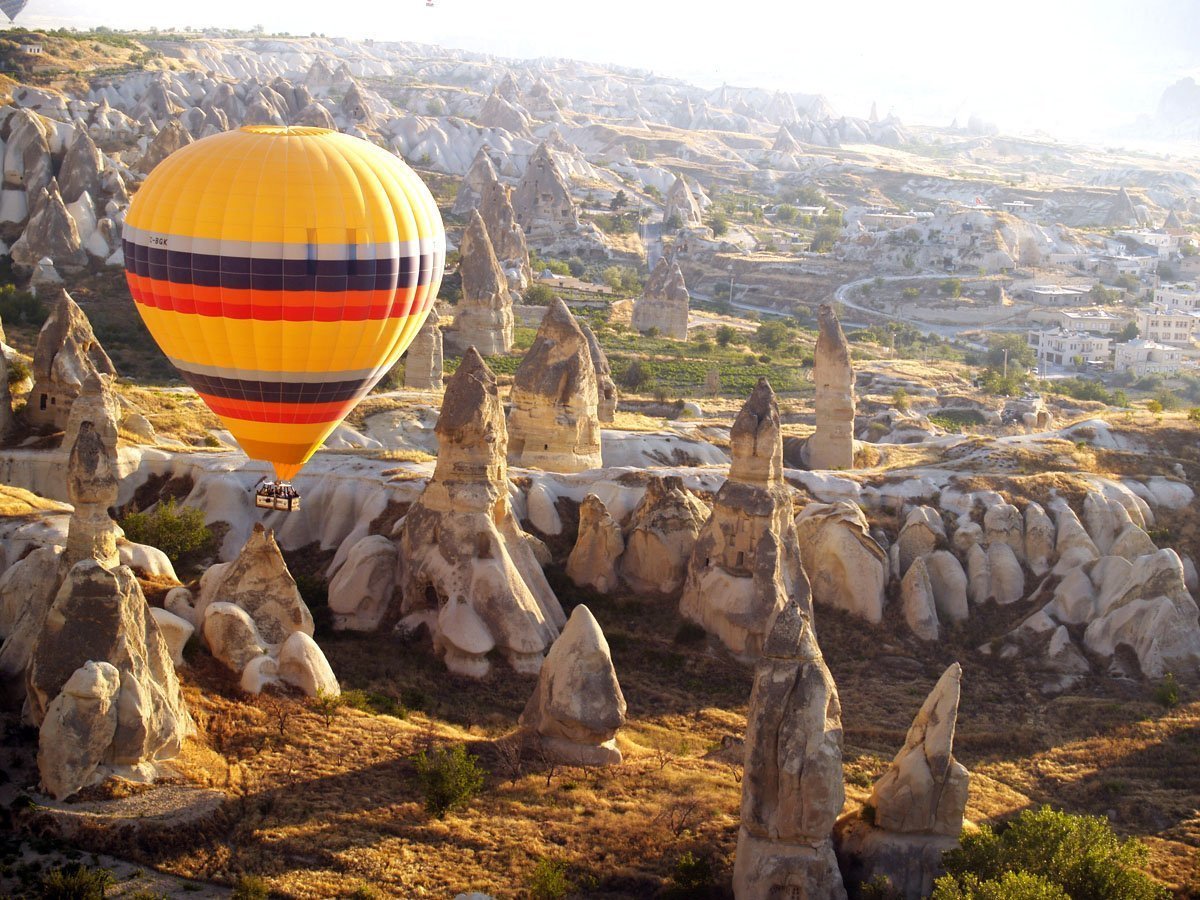 Cappadocia Hot Air Balloon Tour
Cappadocia is the most beautiful place worth seeing with its natural formation fairy chimneys found only in a few places in the world. Cappadocia has been on the UNESCO World Heritage List since 1985. Besides the chimneys, underground cities, museums, one of the best ways to discover Cappadocia is Cappadocia hot air balloon tours. Hot air balloon tours in Cappadocia are held in Göreme Valley. Göreme Valley and National Park is the best place for hot air balloon flights. Every day, at the earliest hours of the morning, balloons rise at the same moment as the sunrise. If the weather conditions are suitable. Hot air balloon tour takes about 1 hour, total activity is about 3 hours.
Kaymakli Underground City: Kaymakli Underground City is built under the hill known as the Citadel of Kaymakli and was opened to visitors in 1964. The people of Kaymakli village have constructed their houses around nearly one hundred tunnels of the underground city. The Kaymaklı Underground City is part of a UNESCO World Heritage List since 1985. The city is arranged around the ventilation shafts which bring air. The city is visited by over one million people every year and it still keeps some mysteries to be sorted out as there is no inscriptions.
Red & Rose Valley: Red & Rose valley is the rolling and rippling rock faces arc out across the country side in a palette of pastel pink, yellow and orange cliffs, formed by volcanic explosion and millennia of wind and water erosion. Between the cliffs are lush orchards, vineyards and vegetable plots still tended by local farmers while carved into the rock are hidden churches and hermit-hide outs
Selime Village : Selime village who has an incredibly beautiful and complex church Selime monastery is the biggest religious building in Cappadocia with a cathedral-size church. One of the most unexpected surprises in Cappadocia is the wonderful rock-cut monastery in Selime. Inside the cathedral there are two rows of rock columns. These columns divide the cathedral into three sections.
Nar Lake: It is a volcanic crater lake. A volcanic crater lake is a lake in a crater that was formed from explosive activity or collapse during a volcanic eruption. Its surface lies 70 metres below the surface of the plain and the depth of the lake is not known. Hot water surging out from the south and north shores of the lake is supposed to be useful in treating rheumatism and many people from neighbouring villages come here for a cure.
Cappadocia Tour and Hot Air Balloon Booking
Let's visit all these beauties of Cappadocia together. Let's see these places together with our local expert guide with our 2-day tours in Cappadocia. We recommend Cappadocia hot air balloon tours to see Cappadocia from a bird's eye view. If you contact us, we will be happy to help you.