Cappadocia Love Valley
Love Valley has tremendous beauty. It is a fantastic region with colorful lands and fairy chimneys in this place, which has an accumulation of millions years. Let us tell you what you do not know about Love Valley, which is one of the most beautiful places in Cappadocia.
The length of the Cappadocia Love Valley is 4900 meters. A beauty that will never regret you will be waiting at the end of the road. The water that comes in front of you will make your job a little difficult right after the landing. However, as soon as you get over this short region, all you have to do is enjoy this pleasure. The most important feature of Cappadocia and the Valley of Love and the elements that make this place wonderful are undoubtedly the fairy chimneys. With their different sizes and colors, these looks will make you fall in love even with its impressive words. You will be amazed by the hat-like looks put on top of the cylinder looks. Walking between vineyards and fruit trees takes approximately 2.5 hours. If you are used to nature walks, we are sure that you will remember every moment happily after this region, which you can finish in a short time with a slight tempo.
Where is Love Valley?
Love Valley is within the in the Göreme area. At the same time, you can see all Cappadocia from here. It is also very easy to come here for this beautiful view. It will be easier for you if you come with the tour and with the local tour guide. Travel agencies help you see this beauty.
A place where you will be amazed in the nature accompanied by vineyards on the way to Âşıklar Valley. If you also like to walk and are accustomed to trekking, you will see the Âşıklar Hill entrance right after you go down from Göreme. It is useful to be a little bit more careful while walking on the land of tuff. After an hour, you will see the magnificent view of Love Valley.
Love Valley and Cappadocia Hot Air Balloon Tour
Love Valley, which is one of the best places to watch the sunrise in Cappadocia, is an extraordinary paradise with balloons flying in the sky. While watching these beauties, do not forget that the most important item you will take with you will be the camera. You will have images that you will never want to forget.
When you join the Cappadocia hot air balloon tour, the hot air balloons fly through the valley of love and offer you unforgettable beauties. To fly at the same time with the sunrise, to watch the Valley of Love and Göreme Valley, to make these moments unforgettable by taking photos. To experience all these beauties, contact us and we will help you.
When is Cappadocia Balloon Tours?
Everday, it is done in the early morning. Guests are picked up from their hotel and brought to the flight destination. While having breakfast here, hot air balloons are inflated and prepared for flight.
Information about flight safety is given and the balloon begins to rise. The flights usually take place between 5:00-5:30 am in summer and between 6:00-6:30 am in winter.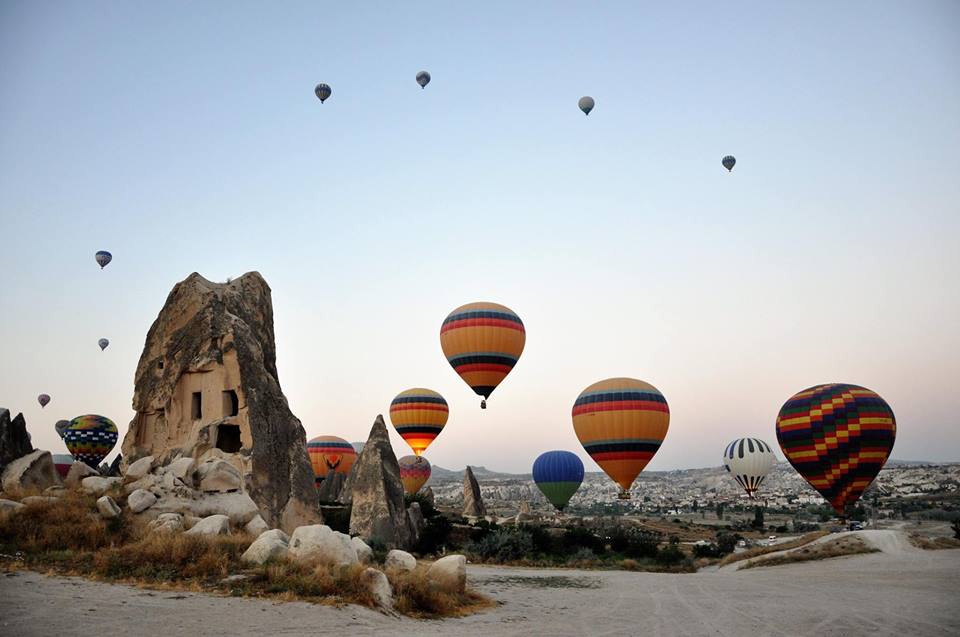 How Long is Cappadocia Balloon Tour?
It is a total of 3 hours of activity. For Cappadocia hot air balloon tour, you will be picked up from your hotel an hour before the flight time and brought to the flight point.
After a light breakfast, safety information is given with the balloons inflated and the flight begins.
During sunrise, standard flights take 60 minutes. You will be dropped off at your hotel after all the activities are over. The total time is about 3 hours. You will be picked up from your hotel at 5:00 and return to your hotel at 8:00.
The Best Place for Cappadocia Hot Air Balloon
Cappadocia is one of the most beautiful places in the world to make hot air balloons. The guests of Cappadocia come from all over the world for its unique view and magnificent volcanic, fairy chimneys, valleys and natural beauty. One of the best ways to watch these beauties is to fly with a hot air balloon. The best time for a hot air balloon to fly is the earliest morning of the day before sunrise. In order for hot air balloons to rise in the sky, the temperature must be at the lowest level.
Is There Always Hot Air Balloon Fly in Cappadocia?
The Hot Air Balloon flights are available every day in Cappadocia. About 150 balloons can fly a day. Of course, if the weather conditions are suitable. If there are negative factors such as wind or rain, sıcak hava balloon flights will be canceled. You have to wait for the next day. Cappadocia has a climate suitable for an average of 250 days balloon flights within a year. In the winter season when there is a lot of wind and rain, fewer flights can be made. The most beautiful is the summer season. All Cappadocia hot air balloons fly this summer season. The number of cancellation days is very low. Balloon flight probability is very high.
Cappadocia Tour and Cappadocia Hot Air Balloon Booking
We would like to be happy to see you in Cappadocia, to see and discover all these beauties. Let's explore all these beauties of Cappadocia together. We recommend Cappadocia hot air balloon tours to see the Göreme valley and around the valley from a bird's eye view. We will be happy to help you if you contact us.