Cappadocia Pigeon Valley
Pigeon Valley is 4 km long. The name comes from the thousands of pigeon houses that have been carved into the soft tuff since ancient times. It is one of the most important valleys to visit in the region. Its natural beauty and history are remarkable. It is great to walk here, to watch the natural beauty, to take photos. Visitors who come here are preferred to watch the valley and walk. There are hotels and pensions in the valley located in the middle of Uchisar Rock Castle and Göreme Valley.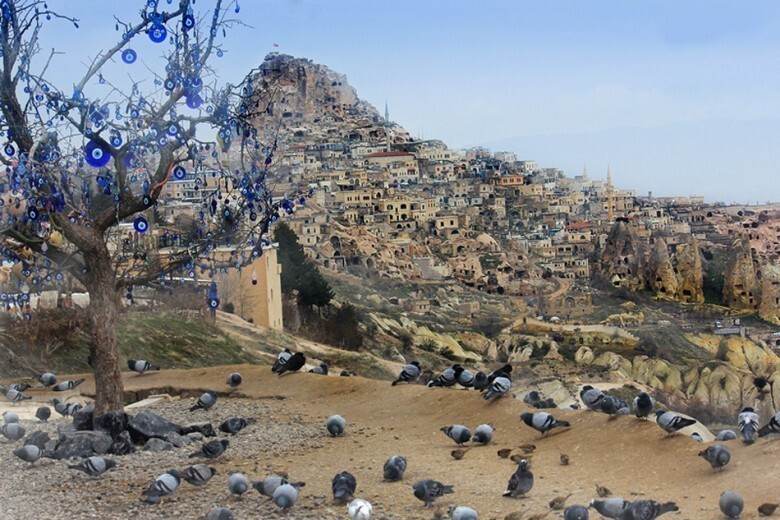 According to historical information, pigeon breeding began in the valley in the 9th century. Local people living in the region and cultivate grapes. The benefit of pigeon manure in agriculture attracted attention. People living in the region continued to do agriculture and pigeon breeding together. Because they insist that the reputation of Cappadocian fruits as the sweetest and most succulent in Turkey is entirely due to pigeon dung.
Cappadocia View from Pigeon Valley
It is known that pigeon fertilizers are used not only in agriculture but also in protecting church walls. It has been used to preserve the color of the drawings that color churches and also to keep the frescoes intact.
Today, it is seen that pigeons with different beauties create a very amazing view in the valley. Pigeon Valley is one of the most important places that attract visitors with its beautiful scenery.
Uchisar Castle is one of the best places for travelers who want to watch the Pigeon Valley. The view is beautiful due to the high Uchisar castle. It is one of the most beautiful places where you can watch the Pigeon Valley, the Erciyes Mountain and the magnificent view of the fairy chimneys.
Cappadocia Hot Air Balloon Tour
The hot air balloon tour in Cappadocia is always the best activity. They must wake up early in the morning to see the enchanting beauty of Cappadocia from the sky. Because early morning sun rises, hot air balloon tours are organized. Guests attending the balloon are picked up from their hotel early in the morning and brought to the meeting point. Light breakfast is served here and the pilot provides information on flight safety. When the hot air balloon is ready for to fly, you will board the basket. Enjoy flying by watching the fascinating beauty of Cappadocia.
Cappadocia Hot Air Balloon Booking
Let's explore all these beauties of Cappadocia and Pigeon Valley together. We recommend Cappadocia hot air balloon tours to see the Pigeon valley and Göreme valley from a bird's eye view. We will be happy to help you if you contact us. If you contact us, we will be happy to assist you for Cappadocia Hot Air Balloon tours.