Cappadocia's Fairy Chimneys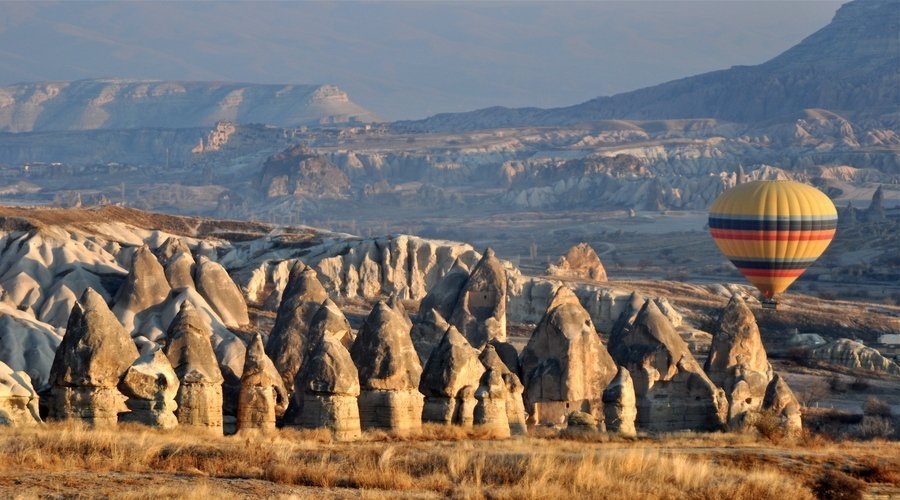 Cappadocia's Fairy Chimneys
Cappadocia's fairy chimneys create a magnificent view.
The story of fairy chimneys, unique in the world, formed millions of years ago, emerged after the volcanic eruptions of this region.
Cappadocia is a volcanic area covered by 300 km long fairy chimneys with Kayseri in the east, Aksaray in the west, Kırşehir in the north, Niğde in the south and Nevsehir in the center. This volcanic area has the underlying tuffs and above them fairy chimneys formed by basalt and andesites.
Fairy chimneys were formed with erosins in time with the effect of rains and winds. Some of reach a height of 40 meters, with a "hat" on them. Unable to be carried by erosion, the neck under the "hat" becomes thinner and falls down. A fairy chimney in this shed will be further eroded later on. This process is constantly happening even today, and very old chimneys are replaced by younger chimneys. We can see the best examples of these natural wonders near Göreme, Ürgüp, Çavusin, Ortahisar, Uçhisar and Avanos.
The best way to see the fairy chimneys in Cappadocia, to go with a local expert guide. We recommend you to visit fairy chimneys and other places to see by participating in daily tours. There are many advantages to taking guided tours. First of all, you will see many places in a short time with a local guide. Guides don't waste time because they know very well where and how to go. They provide expert information about the places they go. You will have substantial historical and geographic information.
Another way to see fairy chimneys in Cappadocia is to participate in hot air balloon tours. Since the balloon tours take place early in the morning, you meet with a very different beauty. You watch the sunrise from the balloon. It is exciting to watch the magnificent beauty of the fairy chimneys from the hot air balloon and to live this moment. We recommend you to go to Cappadocia to visit and see all these. Cappadocia is a place with the most magical beauty of the world. It is a must-see place. We will be happy to see and host you here.
Cappadocia Balloon Tour with Fairy Chimneys View
We definitely recommend you to have a hot air balloon tour in Cappadocia. You have watched the sunrise in many parts of the world, but watching the sunrise while flying with a hot air balloon in Cappadocia is an incredible sight. The magical view of Cappadocia becomes more beautiful with the sunrise. Hot air balloon tours in Cappadocia are held in Göreme Valley. This is the best place for hot air balloon flights. Hot air balloons rise early in the morning every day at the same time as sunrise. Get ready to discover the beauty of Cappadocia with a hot air balloon tour.
Cappadocia Hot Air Balloon Reservation
Contact us to discover the beauty of Cappadocia. We are happy to help you. If you contact us, we will be happy to help to give you the best price on Cappadocia Hot Air Balloon tours.