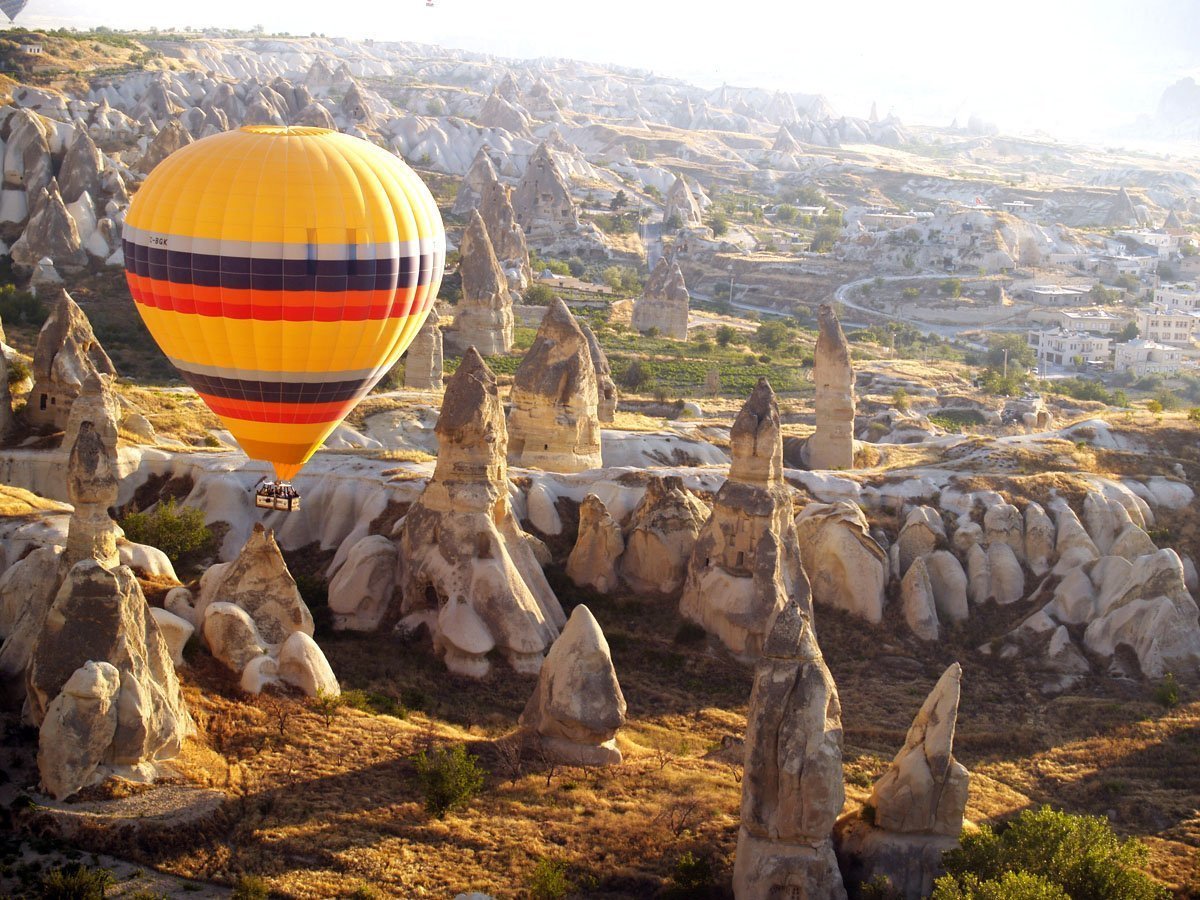 Hot Air Balloon Cappadocia
Hot air balloon tour activity daily operation in the Göreme valley.
With the hot air balloon tours in Göreme valley, you have the opportunity to see the Cappadocia from a bird's eye view. If you want to have a very different experience, we recommend the hot air balloon activity.
Hot air balloon tours, which are common in Cappadocia, provide an experience you will never forget. With the favorable weather conditions, it is done every day at sunrise, so that the air begins to fly before it starts to warm up. You can watch the sunrise from the sky in these balloon tours held in the first lights of the day. Watching hundreds of colorful balloons flying in the sky is as pleasant as flying. Seeing the fairy chimneys and valleys from a bird's eye view and flying over will make you happy.
Hot Air Balloon most memorable activity in Cappadocia
The most memorable activity in Cappadocia is to have a fly with hot air balloon. Even if you do not live in the bad weather condition, I can say that Cappadocia hot air balloon is a must. It is such a special a unforgetable experience. You should experience this moment by flying with a balloon. You can immortalize this moment by recording with a photo or video.
How safe is Cappadocia Hot Air Balloon?
Hot air balloon flights are safe in Cappadocia.
We recommend you to take the hot air balloons when there is no wind and rain. Because hot air balloons are canceled on windy and rainy days. The Civil Aviation control center checks wind and rain conditions daily. Accordingly, it gives flight permission or cancellation.
It takes years of training to get the necessary licenses to become a hot air balloon pilot. Balloon companies are not easy to get a license for the flight. It is important to comply with the necessary conditions and make the insurance fully.
Fabric materials used in balloon production are also produced specially.
Hot air balloon companies, balloons and pilots are regularly checked by the Civil Aviation control center. Hot air balloons are the safest aircraft because statistics show like this.
Who can fly to the Hot Air Balloon?
Anyone between the ages of 6 and 90 can fly. Can not fly under 6 years old. A doctor report over 90 is required. The price increases for over 120 kilos. Pregnant women, those with panic attacks, those who are afraid of height, those who are newly operated cannot get a flight permit. Apart from these, everyone can fly.
What should I wear for the balloon flight?
Yes it should. You should definitely wear more than usual, especially in winter. There must be clothes that can move comfortably while getting on and off the balloon basket. You'd better wear a hat. Sport shoes get better. It is important to have a flat bottom. He shouldn't be heels.
Cappadocia has a high temperature difference day and night. Since we fly in the first hours of the morning, the weather will be very
How much is Cappadocia Hot Air Balloon Price?
Cappadocia balloon tour prices change every year. Prices go up or down for different reasons. Summer and winter prices are also different. The average prices are between 70-80 euros in the winter season, which can be more than 200 euros in the summer season.
Is Cappadocia Hot Air Balloon Worth It?
Cappadocia is one of the most important places than you need to go in as much as Turkey. Fairy chimneys, carved rocks and churches inside the rock, underground cities are the most interesting places. To see these places, you can join local guided day tours from your travel agency. It is possible to see Cappadocia with hot air balloon bird's eye view.
Flying with a hot air balloon is one of the best activities in Cappadocia. Most people come to Cappadocia to do this, but it's not cheap. Hot air balloon flight prices vary according to the season. Prices are higher since there is more demand in the summer. Prices are low as demand decreases in winter. When flying with a hot air balloon and after landing, you realize that the price you pay will be worth it.
Cappadocia Hot Air Balloon Booking
For those who want to experience these unique beauties and experience, contact us to experience this adventure by giving the best price to your budget. Feel free to contact us. Fly Cappadocia Balloon will be glad to help you for Cappadocia Hot Air Balloon tours.