Red Valley in Cappadocia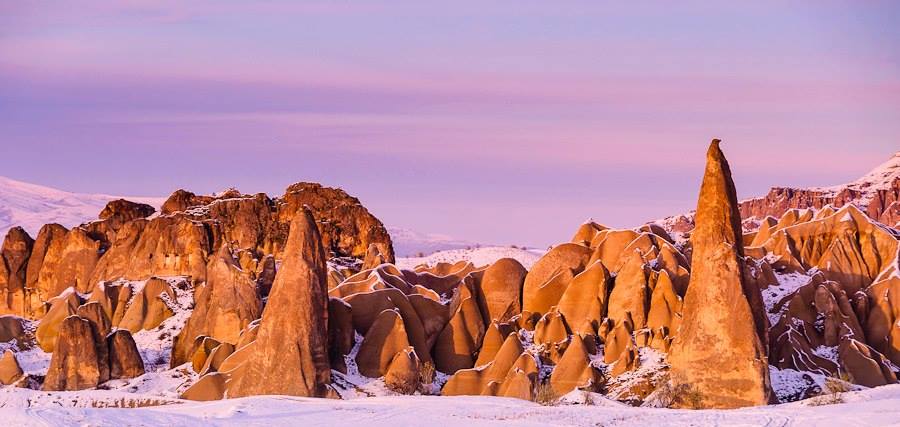 Red Valley in Cappadocia
Red valley is located between Cavusin Village and Ortahisar. The valley, which is approximately 2 km long, attracts attention with the red tuff rocks. Although the Red valley seems small, it is tiring to visit because it is a very indented and protruding valley. During the sunset, you can watch a visual feast after the color turns red. Red Valley is one of the places where the most beautiful fairy chimney views and sunset can be watched in Cappadocia.
While traveling along the Red Valley, you will also see the life styles of the ancient times in the region. There are many churches in the red valley. Direkli church, Üzümlü church and Crusader church are the most important ones. The frescoes and Üzümlü church in the churchs are definitely worth seeing.
There are many pigeon houses in Red valley. The region, which is a wonder of nature, has an even more magnificent visuality when viewed from a hilly place.
Red Valley and Hot Air Baloon Tour in Cappadocia
Red Valley and Hot Air Baloon Tour in Cappadocia
On hot air balloon tours in Cappadocia, you can see the Red Valley from a full bird's eye view. Balloons taking off from Göreme valley fly exactly over the Red valley. Take a balloon tour and watch the magnificent beauty of Red Valley.
ATV tours, horse riding tours, walking tours in the Cappadocia region are held in the most beautiful Red Valley.
Is Cappadocia Hot Air Balloon nice?
Cappadocia is one of the most important places to be seen in the world. Goreme valley, Red valley, Love valley, Fairy chimneys, caves and hot air balloon flights are the places that can be seen from a bird's eye view.
Flying with a hot air balloon is one of the most beautiful activities that can be done in Cappadocia. People from all over the world come to see in Cappadocia, to see and fly in hot air balloons.
We are waiting for you in Cappadocia to experience these beauties.
Hot Air Balloon Tour is The Best Activity of Cappadocia
The best activity in Cappadocia is flying with a Cappadocia hot air balloon tour. A very special and unforgettable experience. You should definitely live by flying a hot air balloon, we recommend it.
Cappadocia Hot Air Balloon Booking
Let's go to see the most beautiful fairy chimneys wih hot air balloon tour. For those who want to experience these unique beauties and experience, contact us to experience this adventure by giving the best price to your budget. Feel free to contact us. Fly Cappadocia Balloon will be glad to help you for Cappadocia Hot Air Balloon tours.