Where to go in Cappadocia?
The most popular places to visit in Cappadocia are; Ürgüp, Göreme, Uçhisar, Ortahisar and Avanos. There are smaller places other than these places. For example, Cavusin, Ayvalı, Nar, Cat, Mustafapasa, Kaymakli, Derinkuyu, Ibrahimpasa etc.
Ürgüp
Ürgüp is the largest and most developed settlement in the Cappadocia region. While it was connected to Kayseri province, it was later connected to Nevşehir province. There are fairy chimneys and newly discovered caves that you can visit during the day. You can watch all of Ürgüp and its surroundings from Temenni Hill, the highest hill of Ürgüp. It has a beautiful view. It's always windy. To reach the hill, you pass through a 100 meter  long tunnel carved from the rocks. Even the summit of Erciyes mountain (3917 mt) can be seen on the days when the weather is nice. Seljuk sultans 4. Rüknettin Kilicarslan (1246-1266) and 3. Alaeddin Keykubat (1297 - 1304) are located in the tombs on the Temenni hill.
When you go out at night in Ürgüp, there are more entertainment and restaurant options.
You can get hot air balloon tours, ATV rentals and daily local guided tours from the agencies in the product.
The winery in Ürgup is very developed. We definitely recommend you to taste and buy.
The hotels in Ürgup are bigger than hotels in other places. There are many options from small boutique hotels to 5 star hotels.
Göreme Valley
Göreme is more preferred because it is close to fairy chimneys and valleys. Göreme Open Air Museum is a place where you will enter a completely different world. You will encounter many churches, chapels and living spaces carved into the rocks in this different world where Christians' missionaries and retreats escaped pressure and monastic life began. This place is cheaper place for backpackers, teens and students. You can visit the area on foot during the day. You can get activities such as horse riding, ATV rentals, daily local guided tours, hot air balloon tours and trekking.
Hotels in Göreme are mostly small pension boutique hotels.
Uchisar Castle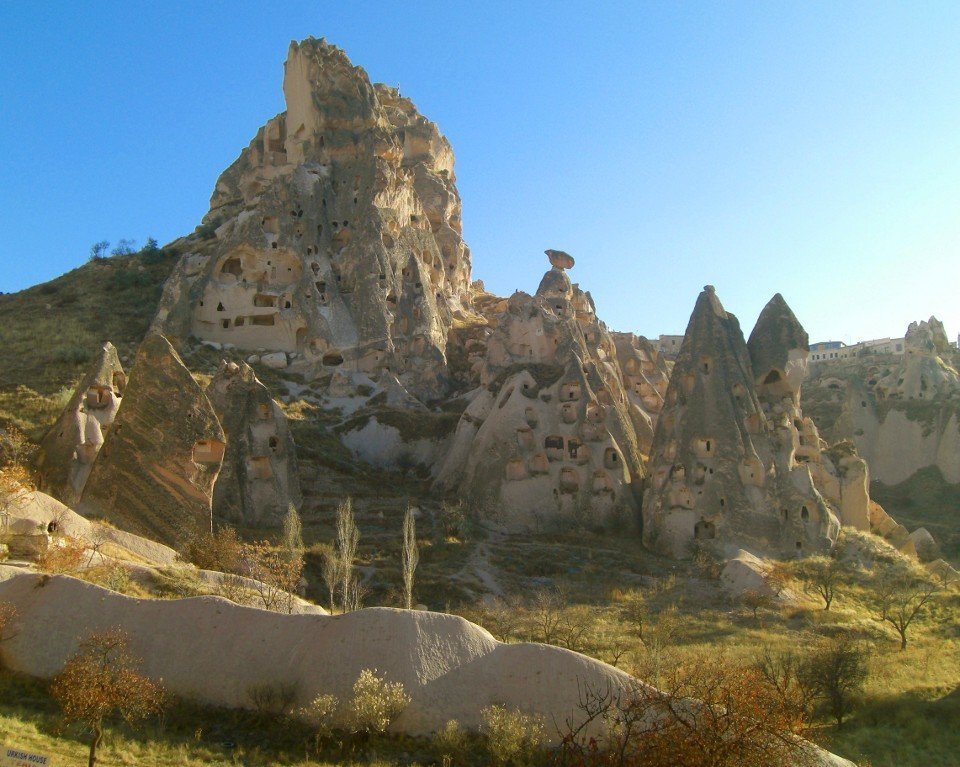 Uchisar Castle is the highest point and the windy place of Cappadocia. It is the place that shows the most beautiful view of Göreme valley and its surroundings. It is very nice to watch the sunset view from here, we highly recommend it. Hundreds of stairs are tiring you to Uçhisar Castle. We suggest you go slow.
Uçhisar is the region where luxury boutique hotels are the most intense. The hotels here are beautiful in the morning, sunrise and hot air balloon view and in the evening sunset view. Hotel prices are more expensive than other places.
Ortahisar
Ortahisar; Many attractions such as Ortahisar Castle and Cappadocia Ethnographic Museums and Hallaç Monastery are located here.
The village center, where the unique local texture of Cappadocia is not spoiled and the beauty of the houses made up of tuff rocks is a place with regional life. Visit Ortahisar Castle, about 90 meters high, in the city center. It has a beautiful view of the whole region and its surroundings. You can visit the Pancarlık valley close to Ortahisar. The small boutique hotels here are simpler and cheaper than other places.
Avanos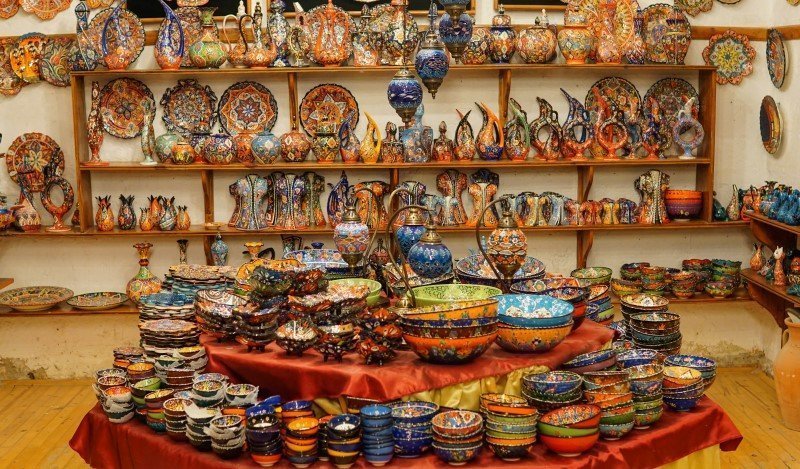 Avanos is a little far from other places. Kızılırmak passes right in the middle of the town. The art of red clay and ceramics, extracted from Kızılırmak, the largest river in Central Anatolia, gained importance here. You will be amazed at the workmanship done in this place where the soil turns into art. There are many local ceramic workshops in Avanos. We strongly recommend you to see. There are many nice cafes and restaurants on the coasts of Kızılırmak. You can get service day and night. It is also exciting to cross the wooden suspension bridge in Kızılırmak.
Cavusin Village
Cavusin Village; Cavusin is on the road of Göreme-Avanos, one of the oldest settlements in Cappadocia. This village is old Greek village in the Cappadocia region. Now It is separated into 2 parts; the new village and the old Greek village. It is calmer and cheaper than other settlements in Cappadocia. We recommend to visit the 5th century church of Saint John the Baptist, situated in the old village part.
The Pasabagi Valley and the Zelve Valley near Avanos. They are also beautiful places worth seeing.
Cappadocia Hot Air Balloon Tour
The best activity in Cappadocia is always a fly hot air balloon tour. We recommend you to take a balloon tour to see the fascinating beauty of Cappadocia from the sky. You need to book in advance for the Cappadocia balloon tour. It is difficult to find a place especially in the summer season. Prices may be too high when you are in the last minute. Book early if you don't want to pay too much. Enjoy the fascinating beauty of Cappadocia with the hot air balloon flight.
Cappadocia Tour and Hot Air Balloon Booking
If you do not have your own car to visit all these places, we recommend you to take a local expert guided day tour. If you contact us, we will be happy to assist you for Cappadocia daily tours and Cappadocia hot air balloon tours.