Zelve Valley and Zelve Open Air Museum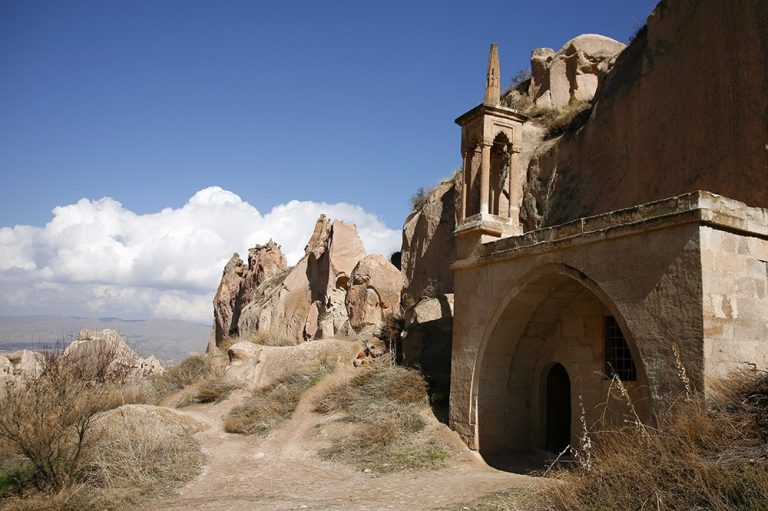 Zelve Valley 
Zelve Valley is separated from Avanos-Göreme road and is 1 km away from Paşabağı Valley.
Zelve Valley is the longest used and oldest settlement in Cappadocia region. It is the largest of the village type valleys in the Cappadocia region. Zelve, Uçhisar, Göreme, Çavuşin and Paşabağı are the most important rock villages in this region.
Christianity first began to spread here. Zelve valley was one of the most important settlement and religious centers of Christians especially in the 9th and 13th centuries. The first religious seminar was given to the monks in this region. There are many rock churches and settlements. In addition, it is possible to see one mosque in the region. Other important places in Zelve Ruins are Uzumlu and Balıklı Church, Değirmen, Holy Pilgrimage Church, Tunnel, Monastery and Direkli Church. After the Christian era, Zelve Valley remained as a village until the 1957. Later, the village was evacuated due to the rocks sliding and risk of injury. The people moved to 2km a way new village.
Zelve Valley, which has very beautiful views, draws attention with its rock houses. The tunnels in the Zelve Valley are extremely interesting. To visit the Zelve Valley, you should definitely wear your comfortable sports shoes. When you come here, you will want to explore the surroundings and see every church and cave. For this, you will have to climb a little and walk.
Zelve Open Air Museum
Zelve valley and Zelve open-air museum is the 2nd most visited museum in the Cappadocia region. Zelve Open Air Museum is one of the top places to visit. Hundreds of people come here every day. Before entering the Zelve valley, you can buy something from small shops run by local people in the surrounding area.
Walking in the Zelve Valley and the Zelve open-air museum is tiring. Since there is no straight road, you have to climb to see the churches and caves. or stairs are required. As the valley of Zelve is bigger than other valleys, a tiring day is waiting for you. Churches and settlements will attract a lot of attention. If you came to travel in the summer, you will need to be protected from the sun. Be sure to take water or drinks with you because you will need it. It will be more comfortable to travel if you came alone or with your partner. But if you have children, it will be more difficult to travel. Traveling with the children here will either take you more time or see less space and leave it halfway.
Cappadocia Hot Air Balloon Tour and Zelve Valley
Hot Air Balloon tours in the Cappadocia region depart from Göreme Valley. You can see Göreme valley and its surroundings exactly on the hot air balloon flights.
Zelve valley is out of sight for hot air balloon tours. In very rare cases, it is possible to see the Zelve valley from the balloon according to the direction of the wind.
Cappadocia Hot Air Balloon Booking
Let's discover beauty of Cappadocia hot air balloon tours to see the Zelve valley and Zelve open air museum with our local expert guide. We would like to be happy to assist you for Cappadocia Hot Air Balloon tours and guided tours.